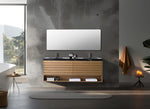 New 2023-2024
NARA Available in 30-inch, 48-inch, 60-inch, and 72-inch
New for 2023-2024, Cartisan Design is pleased to introduce the Mid-century Nara series of vanities. Available in 30"/48"/60"/72", Nara is a perfect blend of classic and organic styles. Pecan oak and Chestnut oak, Nara's two color options, are the most popular wood trends in current interior design & furniture field. The rattan paneling adds a sense of texture and glamour to your bathing space. Elegant arch shapes balance the Pure White Quartz countertop, with rounded edges. Door handles are smooth, and naturally wood toned. Adjustable feet are also included. Interior shelves allow for plenty of bath storage for all your essentials. This vanity is a fine addition to any home.
LYON Available in 30-inch, and 60-inch
The newest entry in Cartisan's catalog of vanities is our elegant and warm Lyon series. Available in 60", 30", Black of Night/Maple, or Beige/Walnut, Lyon is the perfect balance of rustic and contemporary. Its pleasant organic wood paneling is paired with Valspar-coated doors and a cool, sleek countertop. This premium sintered stone counter features ceramic undermount sinks. Concave design, which shapes the unique handles and door edges, brings out stereoscopic appearance to the front. Double cabinet doors open to reveal multiple shelves, in addition to an open bottom shelf for storage. Black of Night and Beige are both in 2023-2024 best color collections for designers.