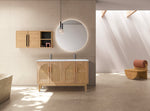 Colmar & Ronda
COLMAR Available in 24-inch, 30-inch, 36-inch and 48-inch
Modern artistry characterizes the Colmar bathroom vanity. Featuring Light Gray, Dark Gray, Olive Green or Whitewash Oak finishing, this freestanding piece boasts two handleless drawers with a large amount of storage space. An oval pop-out in the center perfectly and uniquely hides the drawer opener as part of the vanity's complete, fashionable design. This well-crafted product gives the user's bathroom an upgraded sense of style.
RONDA Available in 30-inch and 55-inch
Modern angles characterize the Ronda bathroom vanity. Featuring a dark blue/smoke gray oak matte finish, this wall-mounted piece boasts one ample drawer with a natural hardwood handle, with plenty of room to store your essentials in style. A pristine white countertop and square vessel sinks create a sense of contrast, which brings simple elegance to your bathroom space. Ronda transforms contemporary trends by blending simplicity, comfort, and luxury, with smooth lines and surfaces.