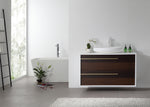 Goreme & Rothenburg
GOREME Available in 30 inch, 42 inch, 48 inch
The modern, artistic Goreme bathroom vanity series comes in Smoke Gray Oak and Walnut Wood. For the first section of the vanity, featuring gray oak finishing, the wall-mounted piece includes two drawers with dark gold-toned steel. The second section of the Goreme vanity features walnut wood finishing, two drawers with natural wood texture, and open shelves with ample storage space. Both sections have pure-white countertops and unique top-mount acrylic sinks.  Goreme's qualities make for an outstanding and fashionable bath space, and match well with other bathroom fixtures.
ROTHENBURG Available in 42 inch, 72 inch
Natural artistry characterizes the Charcoal or Golden Oak finished Rothenburg bathroom vanity set. Featuring original wood pattern and matte finish, this freestanding vanity boasts multiple handle-less drawers with a large amount of storage space. The vanity exudes simplicity but a sense of naturalness is maintained by the wood. It goes easily with other bathroom furniture.