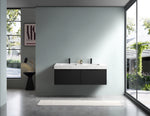 Manarola & Lugano
MANAROLA Available in 42 inch, 48 inch, 60 inch, 72 inch

We're excited to introduce a revamped version of one of our bestselling items - the Manarola. The series has Black of Night and Silver Gray. The unique geometric pattern adds texture and dimension to the elegantly designed piece. Two spacious, soft-closing drawers open to reveal ample storage space for your bath essentials. Minimalist handles and a thick, luxurious countertop add the perfect finishing touches. This vanity combines contemporary style and engaging texture to create a high quality bath experience. 
LUGANO Available in 42 inch and 55 inch
The Lugano vanity series is a cross between modern and traditional design. Lugano sports a Matte Black glass drawer panel with sophisticated Maple Hardwood finished veneer. The design style is fresh and new. Meanwhile, the acrylic countertop with bullnose edging is one of the highlights of our new product line. It prevents water from spilling off the countertop, making the entire design more convenient and functional.