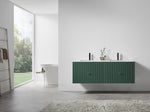 Barcelona & Marfa & Sintra
BARCELONA Available in 30 inch, 42 inch, and 60 inch
We're excited to present a brand new addition to Cartisan Design catalog – the Barcelona series of vanities. This series brings elegance, texture, and clean lines to your bathing space. Dark Blue or Forest Green colorways add a perfect balance of modern and organic sensibilities. Barcelona features a sturdy undermount style sink, as well as ample storage space for all bath necessities. The clean lines of the premium white sintered stone countertop balanced against the sophisticated texture of the vanity base contribute to an overall sense of elegance.
SINTRA Available in 55 inch, and 72 inch
Elegant artistry characterizes the Dark Walnut Oak & Whitewash Oak-finished Sintra series, one of our Karton Republic bestsellers. Sintra features natural dark walnut or whitewash oak cabinets, combined with a unique top-mount sink in light or dark gray. Luxury and elegance are key to this design. The wall-mounted design sets this vanity apart from other bath furnishings. Each cabinet includes four drawers, for plenty of storage sections, while the wide open countertop provides ample space. Simple lines create a modern feel for today's bath space.
MARFA Available in 60 inch, and 72 inch 
Marfa 60 and 72 inch vanities, available in Aloe Green & Walnut, are stunning products in our new catalog. The design combines our unique creamy color with a smooth texture. The thick white quartz countertop's beautiful pattern makes the vanity base pop visually, for a luxury furniture experience. Matte black handles match perfectly with the drawer panels. This high-end product is guaranteed to impress your visitors in your comfortable and inviting bathroom.